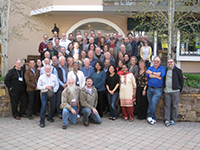 Contact Information
Andrew Bubak
Assistant Research Professor
Department of Neurology
University of Colorado
Anschutz Medical Campus
Phone: 303-724-4325
Andrew.Bubak@cuanschutz.edu
CALS 2022 will be held virtually (Gather Town) on Wednesday and Thursday, May 25 & 26, 2022.
Please fill out the form below to RSVP for the Colorado Alphaherpesvirus Latency Symposium 2022.
For poster/oral abstract submissions and fireside chat topics, please go to https://neurologyevent.ucdenver.edu/cals/abstract
Registration and abstract deadline is May 2, 2022. There are no fees this year but feel free to donate for next year's meeting at our home page.
We hope you can join us!